Quality - Quality standards
At Protecto Glass armoring quality rests on our staff's expertise and experience, and on clear, strict, and verifiable standards and procedures.
Only the best materials and security accessories
Throughout our 20 years of experience we have had the opportunity of knowing and testing different materials from the most important national and international suppliers (all sorts of ballistic steel, bulletproof glass, aramid fibers, etc.). We select only the best materials, based on their quality rather than their cost, their consistency over time, and the protection they provide. In addition, we make sure that all materials are duly certified by the leading authorities in the industry: H. P. White Laboratory, Inc. and the National Institute of Justice of the U.S.
Ballistic gap coverage
A characteristic risk in the craft of armoring is what is known as "ballistic gaps", spaces in the armor through which a projectile can pass. These are the result of poor quality armoring and usually occur in the spaces between moving parts or unions, such as doors or posts. At Protecto Glass we have devised procedures that evaluate armor safety from every possible shooting angle, guaranteeing that our vehicles are armored without any ballistic gaps.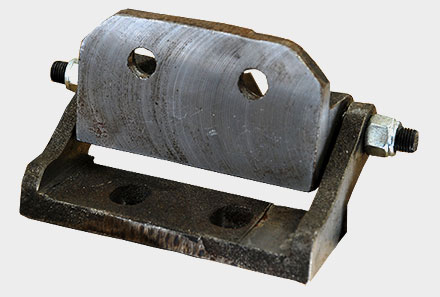 Protection vs. ballistic gaps
This image shows the armoring of the hinge of one of the vehicle doors.
It illustrates one of the details that, if neglected, become an element of vulnerability, putting the lives of passengers at risk when a ballistic gap is created.
Quality Control
Derived from the considerations made and the complexity of each vehicle and its armoring, a list of details and risks is produced, which is monitored and verified in the construction of the protection system up to the final driving and performance tests. This work method allows us to offer the most comprehensive warranty in the business: Up to 5 years with unlimited mileage. We also offer an additional guarantee of zero ballistic gaps in the passenger cabin.
Request a quote
Our service is as personalized as are the armoring type and level that you need:  We listen to your concerns, determine the optimal security/investment balance that you require, and we prepare a quote and present it to you at your home or office.
Contact us so we can devise together the best plan for your security.